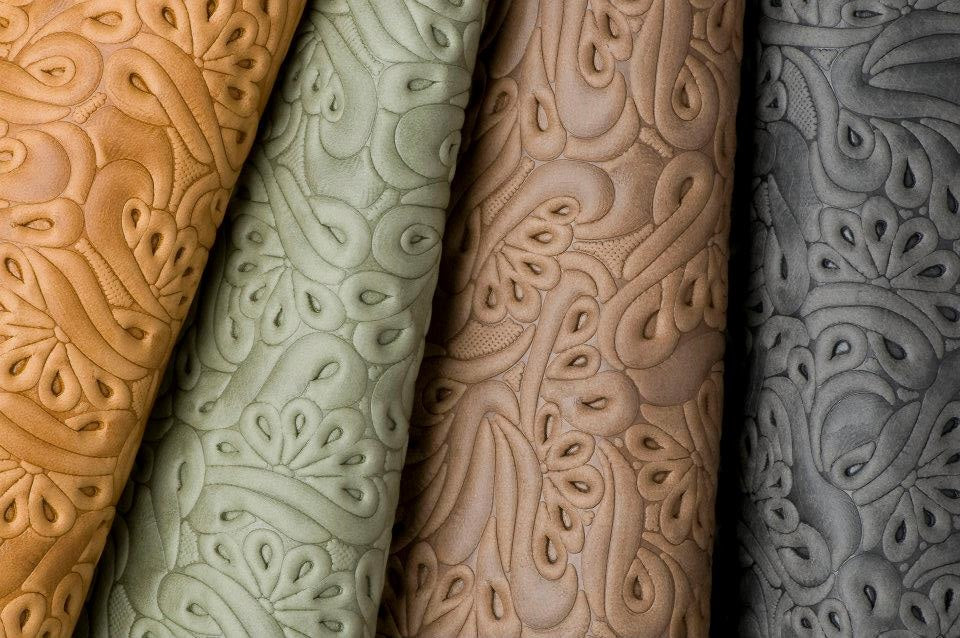 Leather Terminology
ANILINE DYED
Leather that has been thoroughly immersed in a dye-bath but has not received any coating or pigmented finish. This method of transparent dye penetrates the hide with color.

BELLY WRINKLE
These are the natural wrinkles in the leather's grain that are a result of a cow's skin stretching. Fat wrinkles are unique to each hide and are typically only visible in full grain leathers. These wrinkles are most common around the neck and shoulder areas of the hide.

FULL GRAIN
The outer cut derived from the hair side of the hide, from which nothing but the hair and its associated epidermis has been removed.

FINISHING
Any process performed after the initial dyeing stage, including buffing, embossing, milling, spraying, etc. Finished leathers are treated with a topcoat substance to help provide abrasion and stain resistance and may also include additional pigments or dyes for coloring. These topcoats can be lacquers, varnishes, polymers, or enamels.

NATURAL GRAIN
Leathers grain that has not received any alterations. Natural grain leathers often show the hides healed scars, fat wrinkles, insect bites, etc.

NUBUCK
These are a top grain, aniline dyed leather that have been buffed to create a "suede-like" nap effect.

PURE ANILINE
Leather that has been aniline dyed and exhibits natural markings and characteristics as its grain has not received any alterations.

SAUVAGE
The resulting marbled appearance created by blending two or more similar colors on a hide.

SUEDE
Leather produced from the lower skin split of a hide, thus possessing a velvet like nap effect. Suedes do not have the same durable characteristics as top grain leathers.

TOP GRAIN
Leather produced from the top portion of the skin split. Top grain can be either full grain or embossed grain and produce a stronger, more flexible hide.